Exciting news! Not only did the club grow with the merger of the Johnson County Camera Club with us, but their club funds were used to create our new website.
Not only do we have a new website, but we have shorten the web address to make it easier to enter while using a smartphone. The new web address is https://DDandB.org. Notice that our new site is secure with a SSL certificate. Another change you might notice as shown below. We now have a site icon displayed next to our website title when the site opens in your browser tab. This is to help viewers know that will let searchers note that we are a photography club and a website employing a branding profile.

Another distinct and noticeable improvement is the upgrade of our club logo that was redesigned to be prominent on the left side of your website header and to coincide with the upgraded branding plan.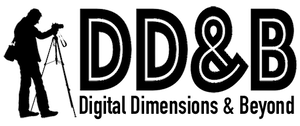 So what does this really mean to club members and website visitors. The most important aspect is a redesign to offer all an optimum responsive experience whether using a desktop, notebook, tablet, or smartphone. Another feature provided with this website redesign is an external contact manager that protects our identity and allows multiple members to get immediate notification of club contact request either through a smartphone app, the service website or alert notices sent to forwarding email addresses. We can event set up chat services, should we have available club members to man that feature. Another change is a new event manager with a lot more features than we previously had, such as, the ability to change between an agenda, week, or a month view. There is another button that allows you to export the event to a lot of different calendar programs. This new event manager also offers tools for filtering and searching of events.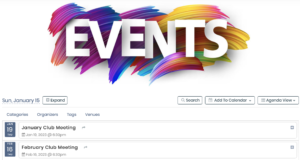 Other improvements is added tools that is promoting our websites present on the internet and search engines rankings. Stronger security features besides the aforementioned securing of our website with SSL certificates. Finally our new website provider is offering us unlimited bandwidth and storage. The hosting provider also have removed the file size limit.
While there are many more features that will hopefully add value, stability, and reliability for us, let's cover the sunsetting of the old websites. The old site at http://www.digitaldimensionskc.com and our SmugMug site at https://digitaldimensions.smugmug.com will not be renewed and will drop off the internet at the end of March. With that closure will also transition to a new website team. Between now and the end, the new website will be migrating the files and links onto the new hosting server and website. Big thanks to those that supported that website, which was coded only in html.